Department of Ecology,
University of Chicago

Studio 3A
December 2014

This project began with the creation of single modules that will aggregate into a larger whole. Instead of a single unit, we are interested in an evolution of units that would build up to an aggregation that behaves differently when one approaches it from different viewpoints. Unlike most cases in the studio, our project became an investigation in local transformations and the play of scale of units. The module is comprised of three thin panels, and the module itself becomes structural steel panels. To aggregate with the module one must first define its volume. The module is thickened by selectively filling triangular volumes between its flaps, resulting in multiple umbrella-shaped forms that acts as half-columns, which begins to give volume to the massing.
︎︎︎︎︎ Module unit detail
The module is stretched and compressed to produce a range of modular primitives that vary in size and volume. These units are then paired among themselves to form multiple clusters, platforms and towers that address both the need for geometric variation and programmatic requirements. The result of this modular aggregation is a massing that consists of volumes from 10' pocket spaces to major load-bearing arches that measure 45' in height and spans over 30'.
︎︎︎︎︎ Module catalog
The site is located alongside the Chicago river within the north-loop, right in between a river esplanade and a busy commercial area. Most people that enter the site have a tendency to move diagonally across it to get to offices on the north end. Because of the unique nature of our program (greenhouse/vivarium), we approached the site with the idea that the building could act as a buffer zone and slowly transition pedestrians from a more relaxed riverfront into the more urbanized area.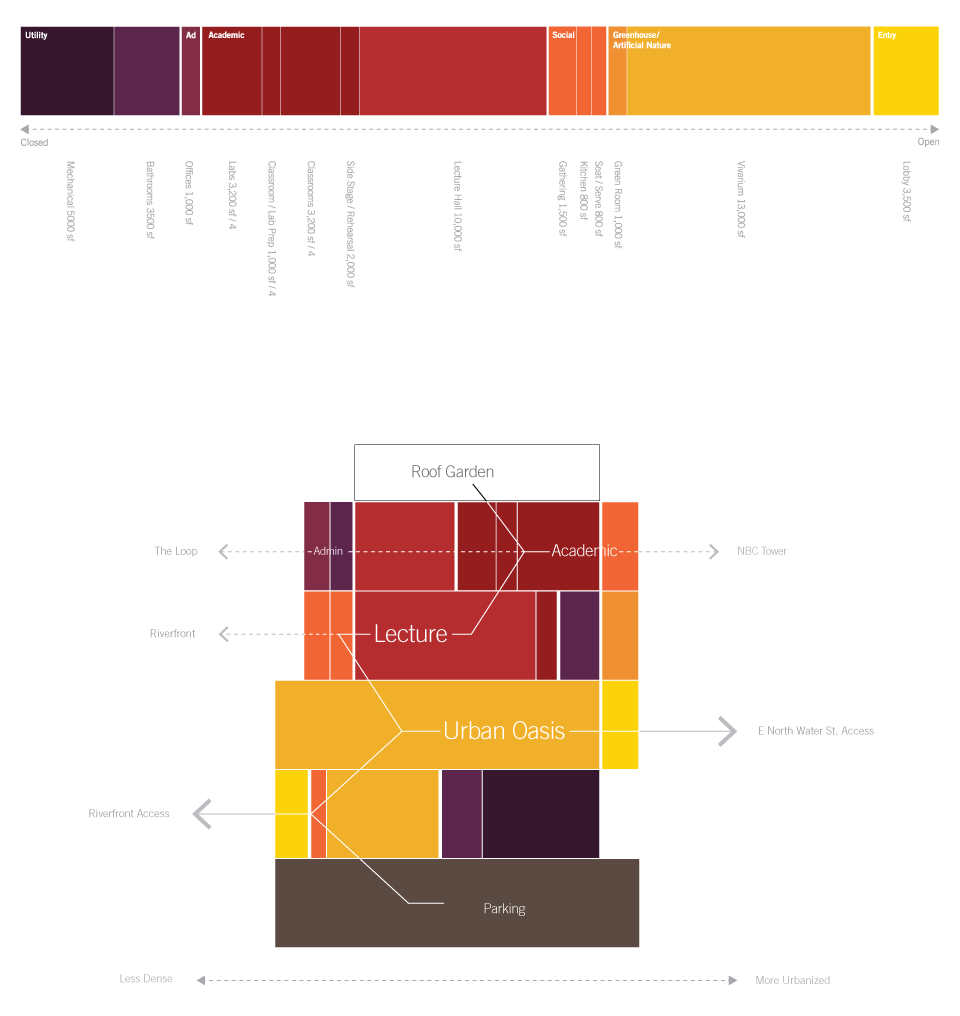 ︎︎︎︎︎ Intersection overlooking riverside
︎︎︎︎︎ Gathering space atop lecture hall
When one moves across the river one is intrigued and lured into the building which presents itself as a giant greenhouse. The ground floor of the building is connected to all major intersections of the street - giving pedestrians an alternative route to move through the building, while letting them experience and interact with the sculptural vivarium.

The vivarium is constructed in a way that it is visible from every part of the building, In the center of the building the vivarium remains as a vertical volume that compliments the atrium; as spaces become more segregated more in the higher levels, the vivarium adapts and becomes a narrow tunnel space that nests in between classrooms.
︎︎︎︎︎ Ground Plan
The 1/16 model is constructed with 3D powder (white) printed parts as floors that are then stacked to become a building. The facade is made with clear film with spray-mounted mylar sheets that contain PTFE tile patterning. The model sits on top of a museum board site model which illustrates the existing doubled leveled site condition of downtown Chicago.